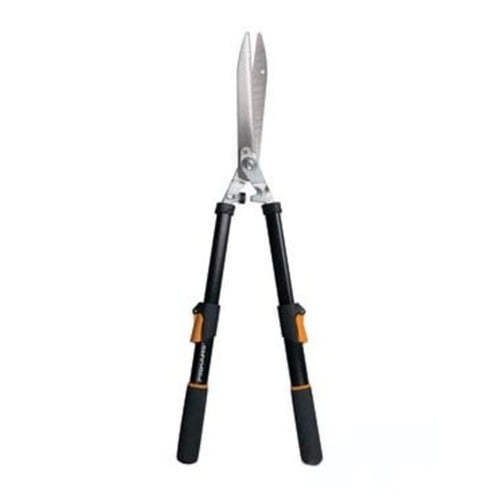 Fiskars B191696935J Telescoping Hedge Shears / Scissors
Tax:

No Sales Tax (except California orders)

Availability:

Usually Ships in 1 to 2 Days
Product Description:
Fiskars Power-Lever Hedge Shears feature compound lever technology that multiplies your leverage togive you up to two times more cutting power than traditional single-pivot shears. To make high,hard-to-reach or awkward cuts easy, these shears also include handles that extend and lock securely. Fully hardened, precision-ground steel blades feature a serrated edge to grip while cutting, and apatented self-sharpening design ensures that every cut is clean and crisp. A rust-resistant,low-friction coating makes every cut even easier, shock-absorbing bumpers absorb jarring vibrations, and durable steel handles with non-slip grips offer control. Durable steel handles Soft grips for comfort Telescoping handles extend from 24.5" to 31" Blade length: 10" Lifetime Warranty
Ratings and Reviews
There are no reviews yet. Be first to comment.

Add review for this product
Questions related to this product
Be first to ask a question.
So Extra Slider: Has no item to show!